The short animation series "Mini Mame-chan" will be aired on Thursday, August 18, from 25:25 to 26:25 on Fuji Television Network (Fuji TV)on a program called "EXITV!~FOD no Shinsaku・Meisaku o Pon!Pon!Misemakuri!!~" In addition, FOD and TVer will broadcast previously aired episodes for free!
Super popular voice actor Shota Aoi plays the leading role, Mini Mame-chan!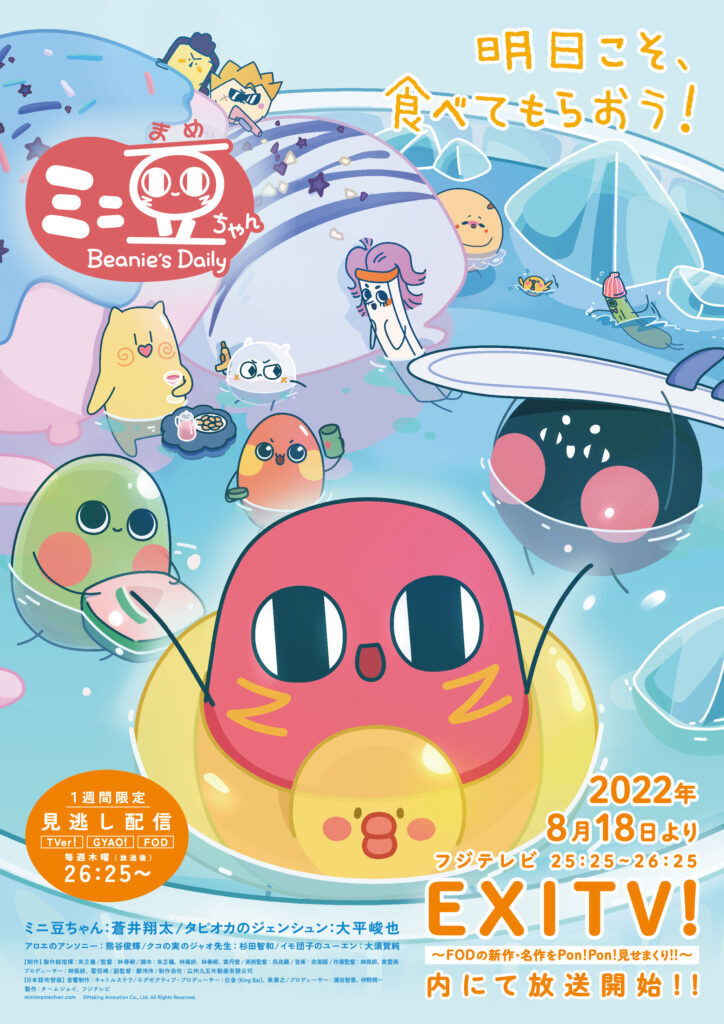 ◇ Mini Mame-chan official website
The anime "Mini Mame-chan" began distribution on FOD Premium on April 1, 2022, and as of the end of July of the same year, it has been broadcast for four seasons, and on SNS. The program received many fan reactions such as "cute!", "interesting", and "surreal".
To attract more viewers, a 3-minute terrestrial special edition of "Mini Mame-chan" will be broadcast on FOD on a Late-night talk show titled "EXITV!~FOD no Shinsaku・Meisaku o Pon!Pon!Misemakuri!!~". This show will be hosted by EXIT, who is hosting the show for the first time as MC, and will bring new masterpieces from FOD to the stage in an exciting fashion.In addition, the special terrestrial version will be available on FOD and TVer for free every week.
This film (original title: 請吃小紅豆吧!) is a short animation that has been distributed on the Chinese video distribution site bilibili since 2018 and has surpassed 200 million views.The cute and unique characters based on various sweets motifs such as adzuki beans, tapioca, and aloe, will captivate the viewer's hearts.Fuji TV and Team Joy have produced a Japanese dubbed version of a big hit anime from China.
The role of the main character, "Mini Mame-chan" is voiced by Shota Aoi, one of the most popular and talented celebrities in Japan who is attracting a lot of attention.
He has played the role of Ai Mikaze in the "Uta no Prince Sama!" anime series and played himself in the anime "Poppetepic," among many other high-profile productions. Please enjoy the cute, positive, but slightly wicked Mini Mame-chan.
Mini-mame-chan's best friend "Tapioca no Jenshun" will be played by Shunya Ohira, who is popular for his roles in the musicals "The Prince of Tennis" and "Sword Dance," as well as Tara-chan in the stage play "Sazae-san".
Jenshun is also a highlight of the show, and Shunya plays Junshun's demure and goofy character without using his acclaimed masculine voice.
Other voice actors who will take on the role of the sweets are Tomokazu Sugita, Jun Osuga, and Toshiki Kumagai, who, as a child, dubbed the main character of Simba in the movie "The Lion King".
[Comments]
Shota Aoi (as Mini Mame-chan)
"Congratulations on terrestrial broadcasting!
I'm happy that more people can see my favorite Mini Mame-chan. Moreover, it seems like a dream to be able to get this kind of news on my birthday! It seems that the voices of the Chinese version of Mini Mame-chan and sweet friends are dubbed by the animation production crew!
I love the production crew's love toward the animation and the cuteness of their voices!
I wanted to reproduce the cuteness of Mini Mame-chan, and bring them to life with as much cuteness as I could bring to the role!
Whether it's a good day, a bad day, or a tiring day, I am sure that Mini Mame-chan will surely heal you!
Please make this sweet animation your bedtime companion!
The exquisite interactions with Jenshun and his friends are really fun and make you laugh!"
Shunya Ohira (Tapioca Jenshun)
Congratulations to MiniMame and Jenshun for making it to the terrestrial stage!
When I heard the news I was so happy that I sent a barrage of Mini Mame-chan stamps to my manager (by the way, the one I often use is "dejected"…). Now that they are going to start airing on terrestrial TV, they are sure to be loved by many more people, and I, too, would like to watch them while sipping tapioca milk tea. Please enjoy the show, everyone!
【A special video is now available on YouTube !】
Shota Aoi's comment video for terrestrial broadcasting of "Mini Mame-chan"
Shunya Ohira's comment on the video for terrestrial broadcasting of "Mini Mame-chan"
Video of Shota Aoi's question-and-answer video